Cape Coral Casa Nueva is een gloednieuwe woning van 218 m2 gelegen bij een mooie gracht in Cape Coral. Alle voorzieningen voor een heerlijk vakantieleven zijn binnen handbereik in dit aantrekkelijke en zeer betaalbare vakantiehuis dat ideaal is voor groepen van maximaal 8 familieleden of vrienden.

De 4 slaapkamers en 3 badkamers zijn ingedeeld in een open, uitnodigende en heldere "Great Room" lay-out. Tegelvloeren, hoge plafonds, en aantrekkelijke architectuur verlenen een gevoel van luxe. De woonkamer is enorm, met een luxe lederen zithoek en een flat screen-tv. Deze wordt overzien door een ontbijtbar met plaats voor vijf, een aparte ontbijttafel met uitzicht op de achtertuin met vier zitplaatsen en een formele eetkamer met plaats voor zes. De keuken is ruim en elegant ingericht, met roestvrij stalen apparatuur en voldoende ruimte om maaltijden te bereiden. Draadloos internet is inbegrepen.

De master slaapkamer is voorzien van een statig kingsize bed, een grote badkamer met een spa-bad, een walk-in douche en toegang tot het zwembad. De twee slaapkamers hebben queen-size bedden, terwijl een ander twee aparte bedden heeft die ideaal zijn voor kinderen. Drie van de slaapkamers zijn voorzien van flat screen televisies.

In de achtertuin bevindt zich een afgeschermd, verwarmd zwembad en een groot terras biedt een ontspanningsruimte die privé en rustig is. Het plateau is voorzien van lounge stoelen, een tafel om buiten te eten en een spa met een waterpartij in waterval-stijl. Net buiten is een groot grasveld om op te spelen, een privé aanlegsteiger voor een boot met een schattige tiki hut en een prachtig uitzicht op de gracht. Hier kunt u zwaaien naar passerende boten of gebruik maken van uw eigen boot voor toegang tot de oceaan.

Cape Coral heeft stranden, golfbanen en een familie waterpark. De stad heeft meer kilometers aan kanalen dan iedere andere stad in de wereld. Deze komen uiteindelijk uit in de warme wateren van de Golf van Mexico. Bezoekers maken gebruik van de boot- en autoverbinding naar de barrière-eilanden Sanibel en Captiva, waar men resorts, restaurants en entertainment vindt. Tussen de eilanden en Cape Coral bevindt zich het beroemde "Pine Island Sound Aquatic" reservaat, dat een volledig pallet aan outdoor recreatiemogelijkheden biedt, zoals vissen, kajakken, oceaan sightseeing, duiken & snorkelen of gewoon zonnen en genieten van het tropische landschap. Cape Coral is een heerlijke plek om te spelen en genieten van de ontspannen lifestyle van Zuid-Florida!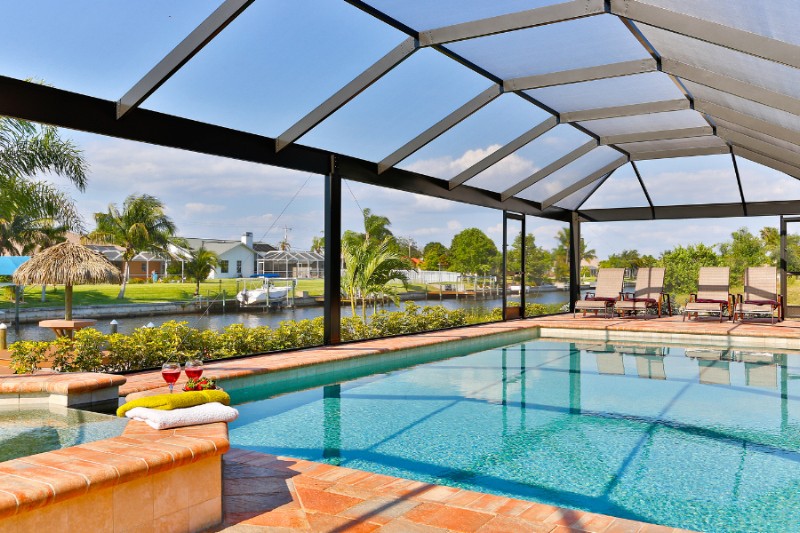 Fabulous water views from the pool area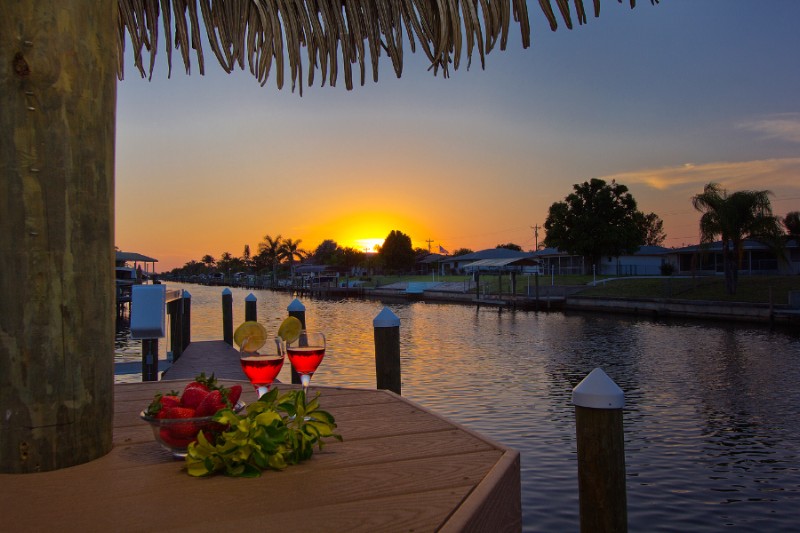 Enjoy the sunset at the tiki hut by the dock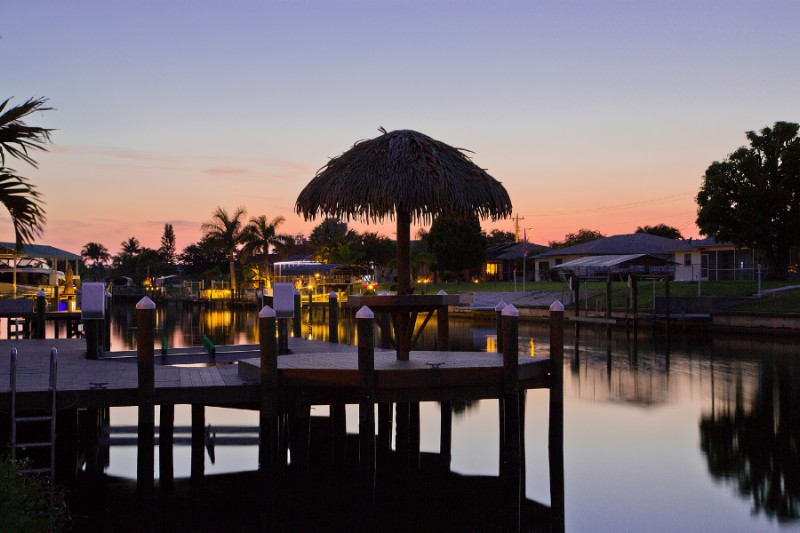 Twilight view of the dock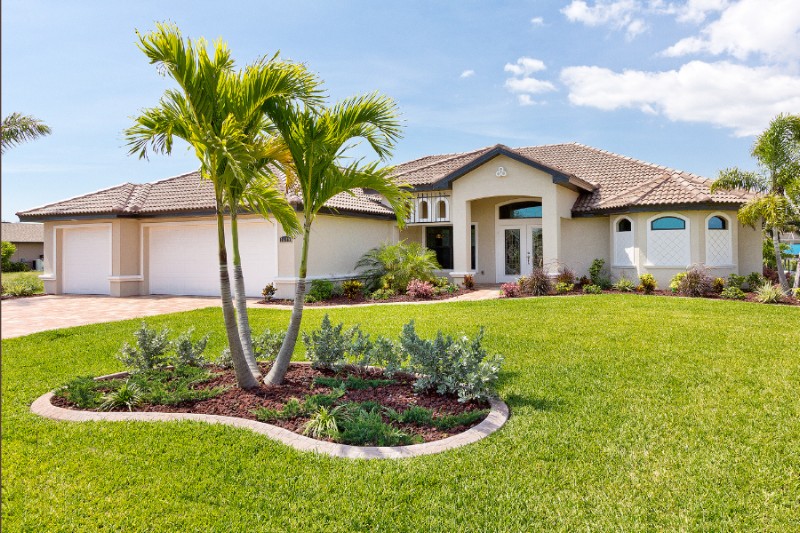 House as seen from the front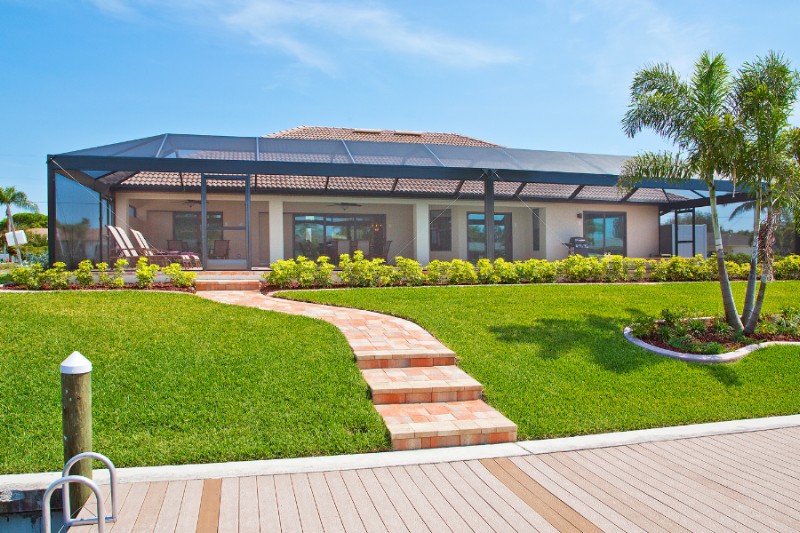 View of screened-in pool from the dock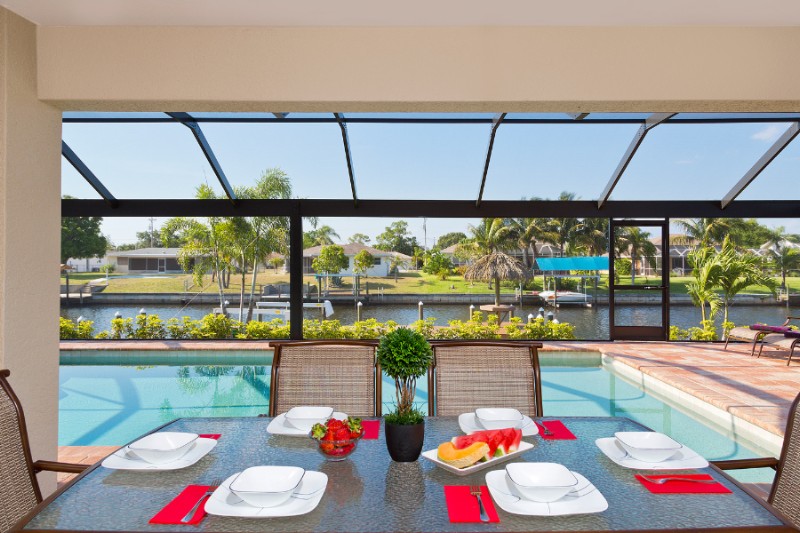 Outside dining by the pool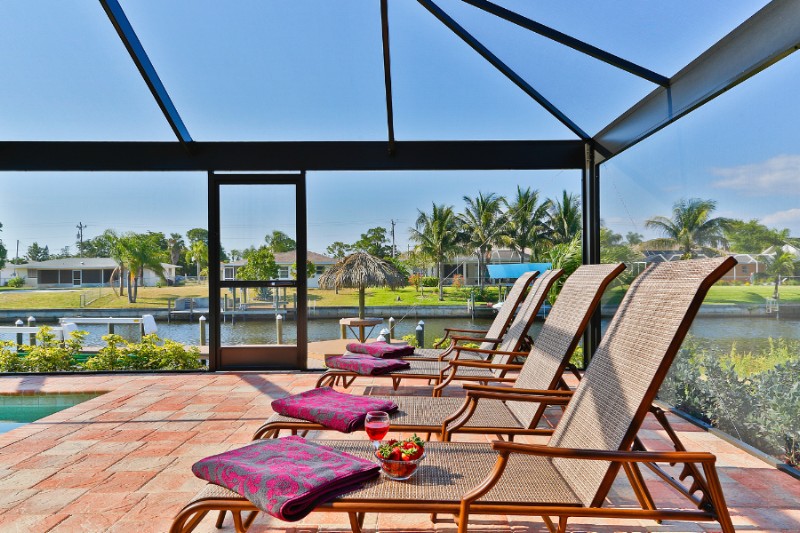 Sun loungers to take in the rays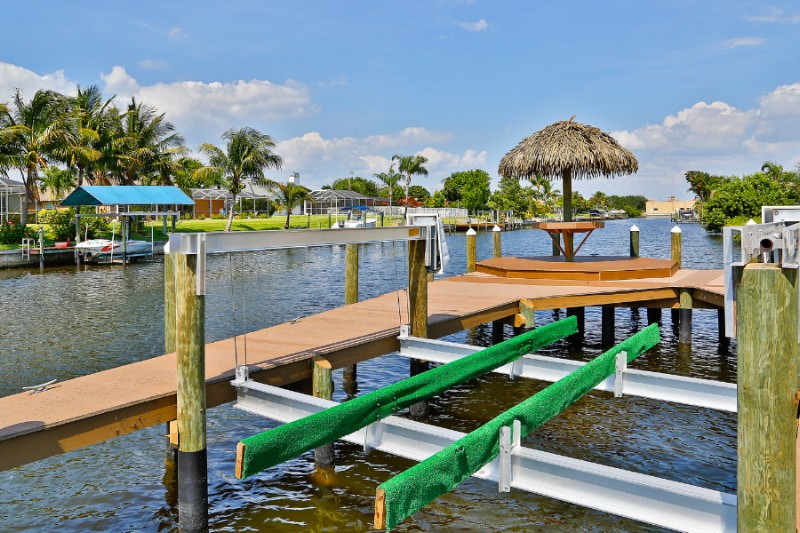 Canal and tiki hut - Rent a boat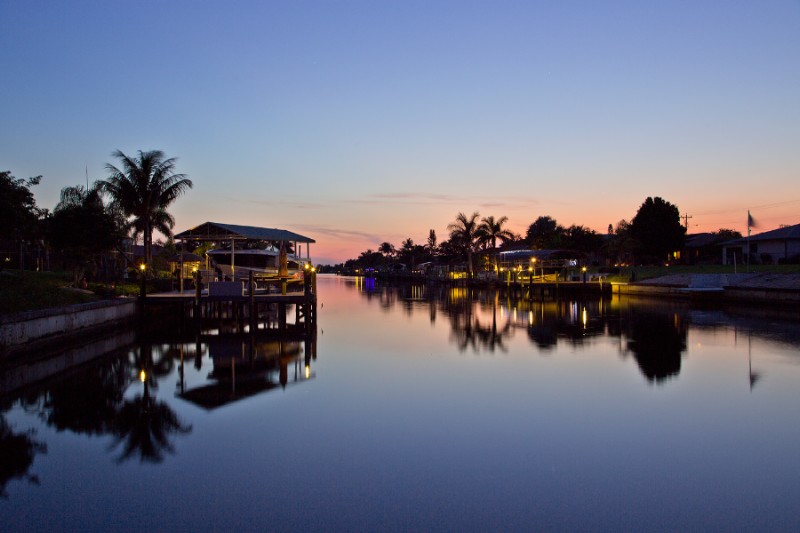 Twilight canal view will take your breath away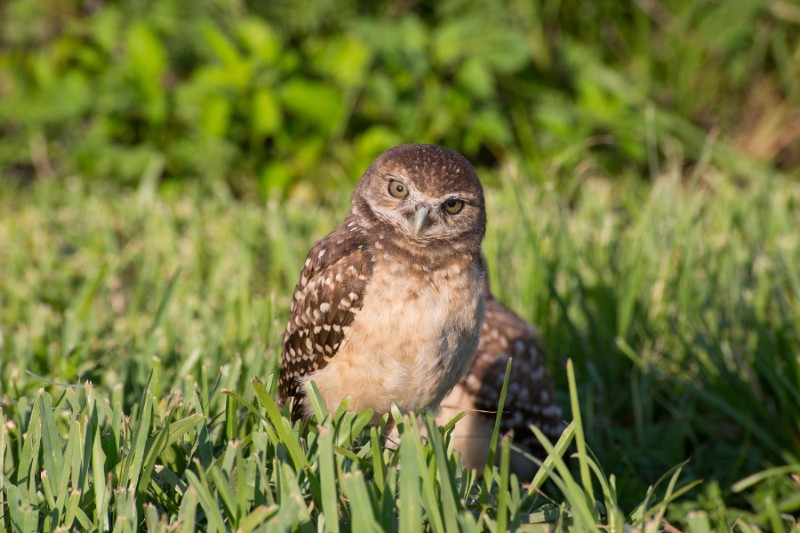 These little fellows can be seen around the house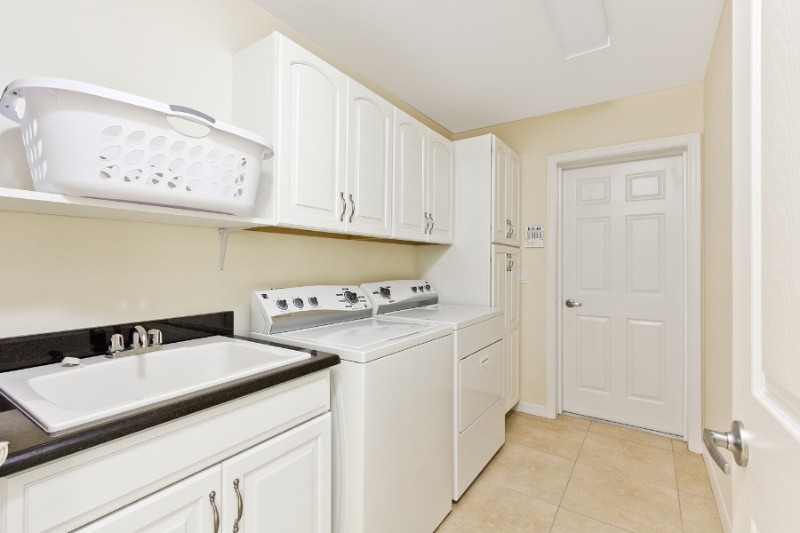 Washer and dryer in the spacious utility room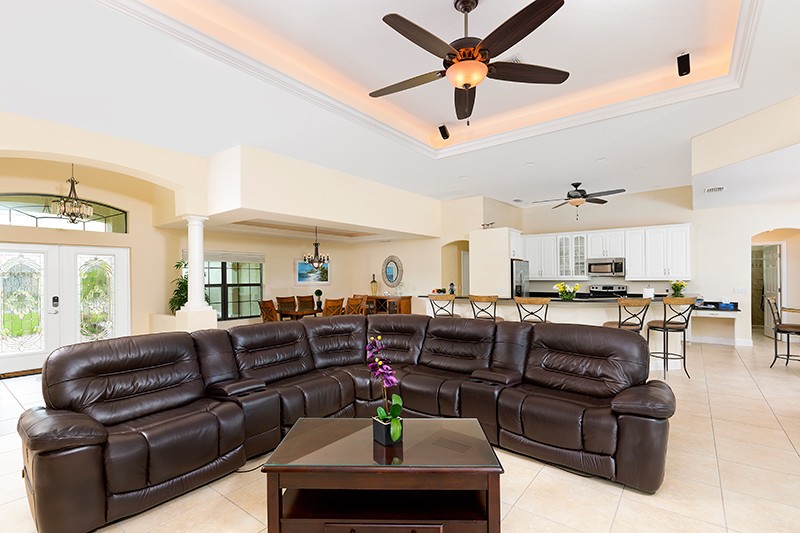 Great livingroom with high ceilings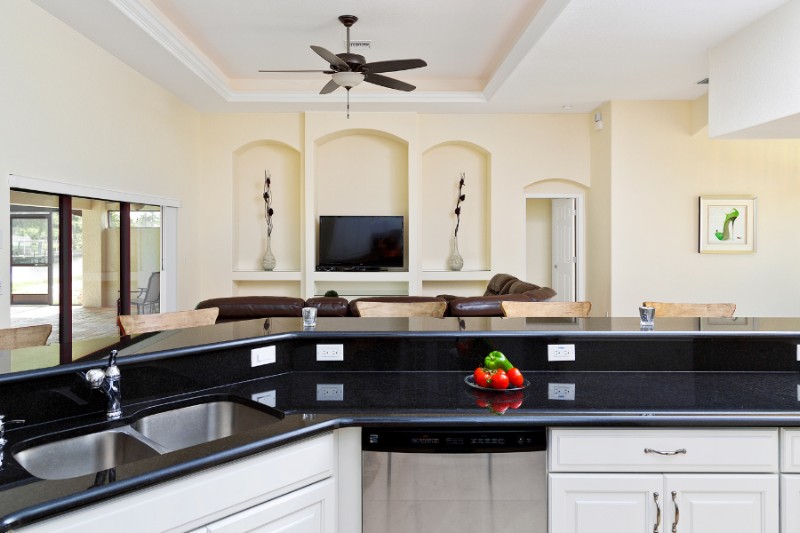 Great view of the TV in the living room from the kitchen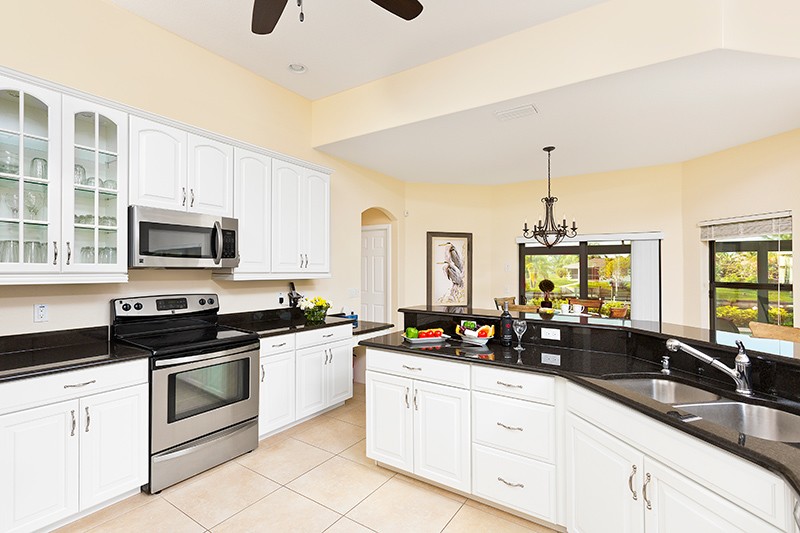 A very spacious kitchen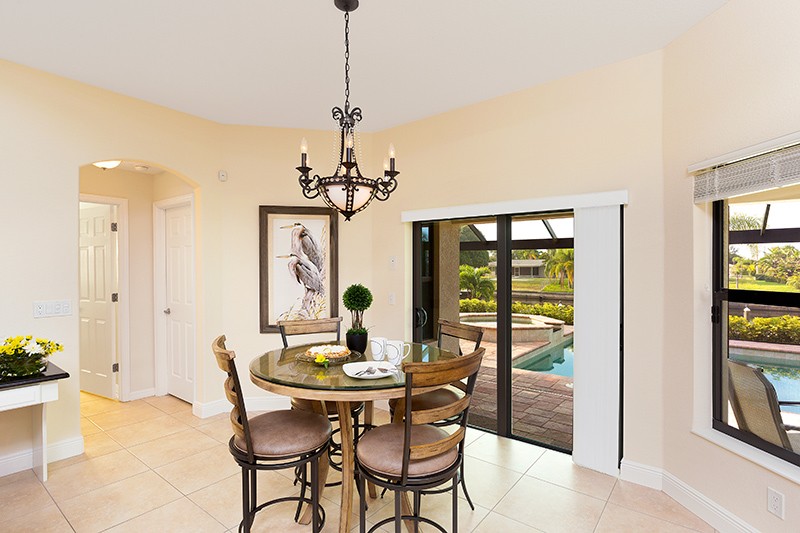 Breakfast table for four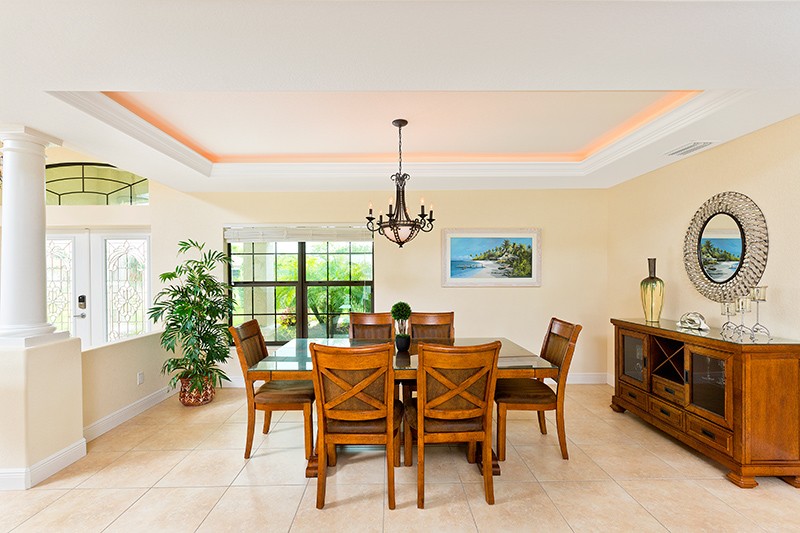 The formal dining room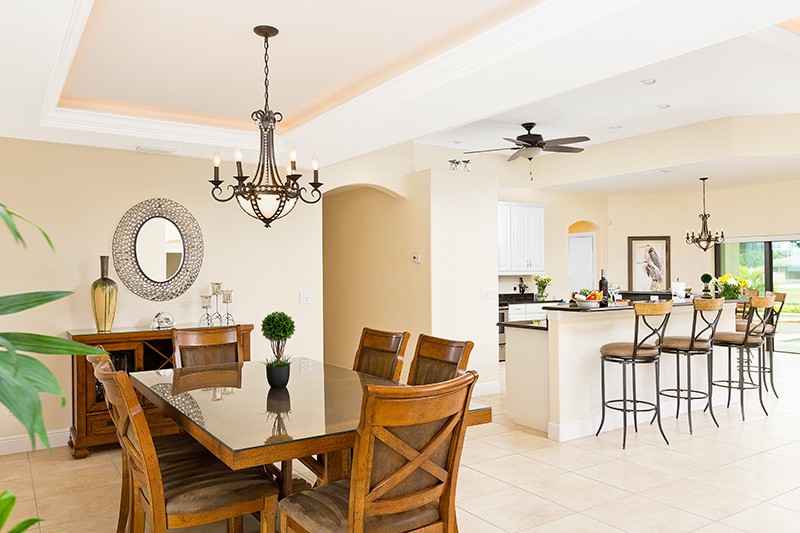 Kitchen seen from dining room
King-size bed in the master bedroom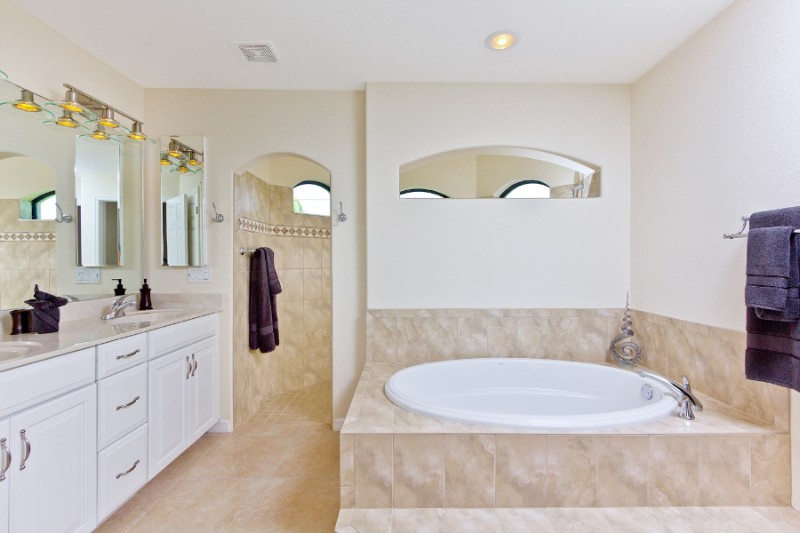 Master bathroom with a spa tub and big walk-in shower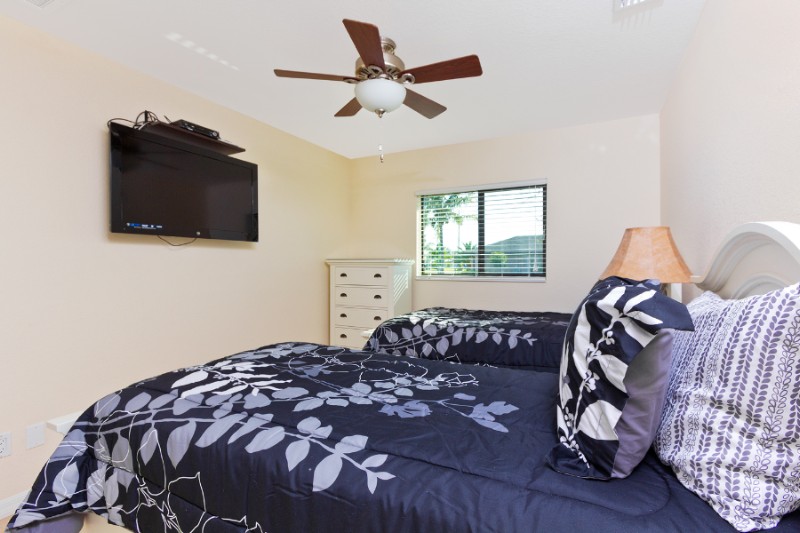 Two twin-size beds and a TV in the 2nd bedroom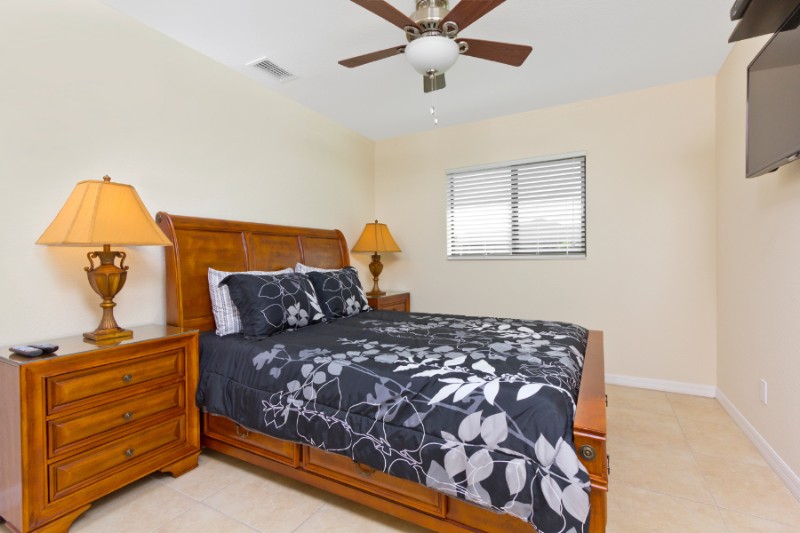 TV also in the 3rd bedroom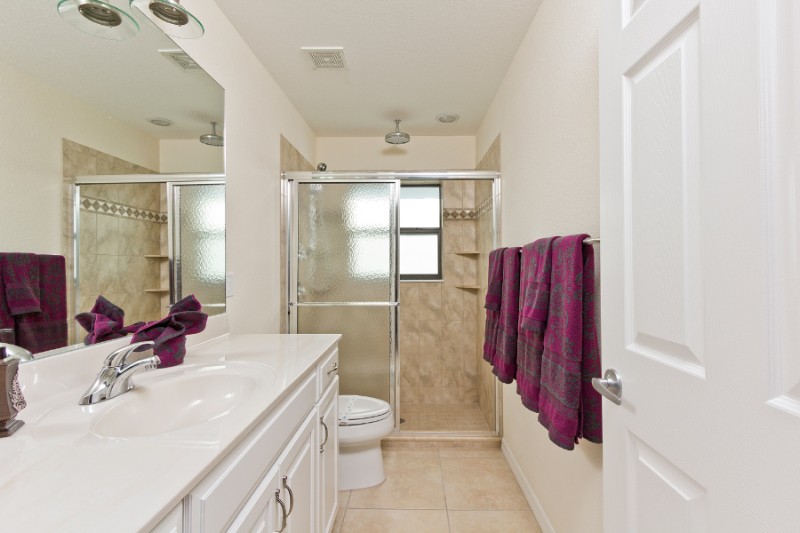 Second bathroom with a walk-in shower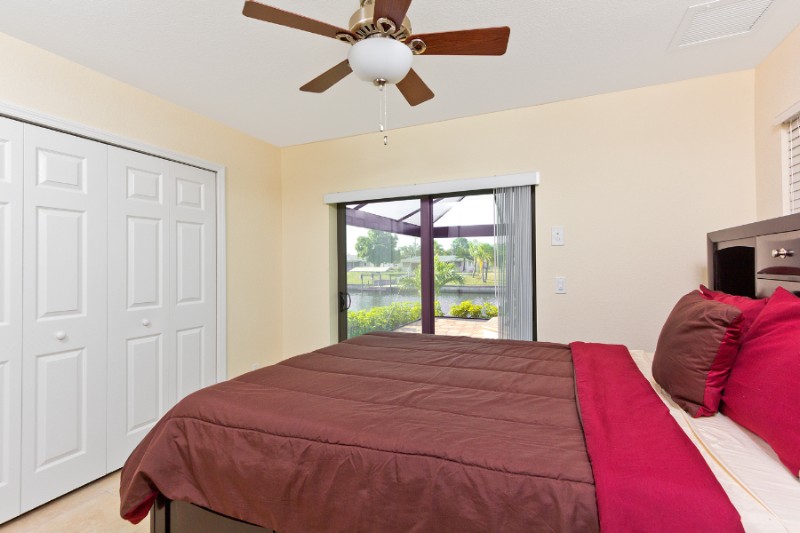 4th bedroom with a pool view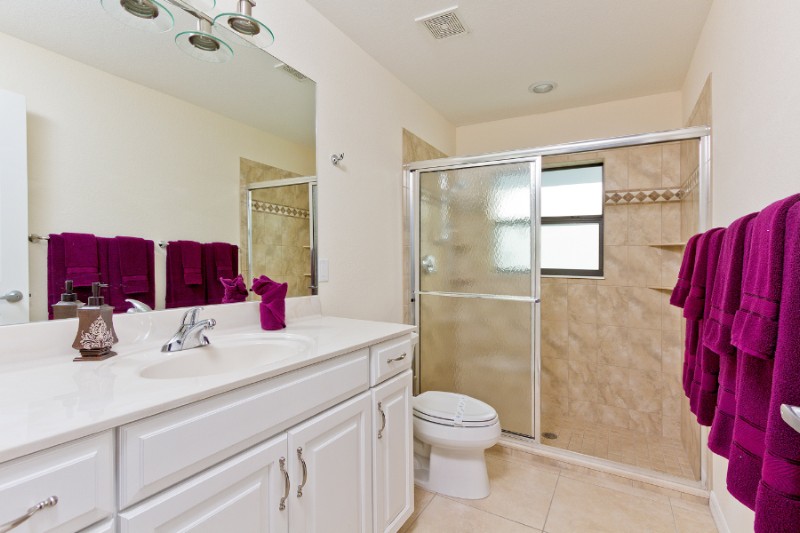 3rd bathroom with a walk-in shower